The Wallet For The Gentlemen

Do your coins and cards are always spread around, and you have difficulties finding them? Are you looking for a protective, classy, trendy, vintage style and compact wallet for yourself? Our NEW Men's Leather RFID Wallet is an exquisite and small wallet to keep your cash, cards, and coins in place and near you – And most importantly, keep you cards safe & secure at all times! That's right, our wallet is 100% theft proof!
The wallet has a zipper closure to protect your cards and cash. The RFID and NFC blocking properties are built into the wallet to make it more protective.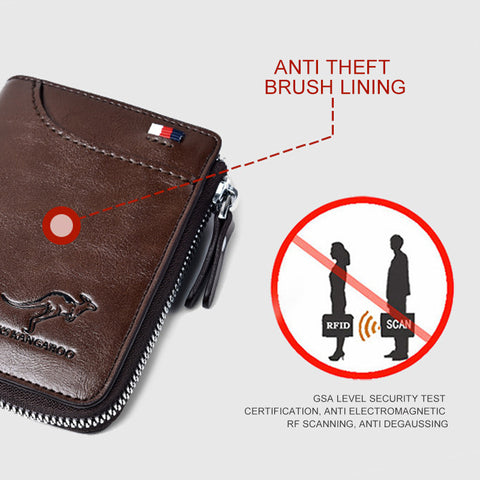 Did we mention, the wallet is also splash and scratch-resistant? No more unwanted marks! 
FEATURES & BENEFITS | THE WALLET FOR YOU!
SUPER SMOOTH & SHINY TEXTURE: The fully waxed fabric of the wallet gives it a super shiny and smooth texture. It comes through 33 processing steps to make it wear-resistant and highly reliable. 
GENUINE LEATHER CONSTRUCTION:

 

The vintage leathers stay true to their nature by being receptive to scratches. With use the wallet will absorb the natural oils of your hands which will allow the wallet to develop a rich and dark color. Each wallet has a compelling story to tell.
RFID BLOCKING TECHNOLOGY: Equipped with advanced RFID SECURE Technology, a unique metal composite, engineered specifically to block 13.56 MHz or higher RFID signals and protect the valuable information stored on RFID chips from unauthorized scans
ZIPPER CLOSURE WITH VARIOUS POCKETS: Designed to meet multifunctional occasion. The wallet no doubt meets your everyday needs. Also equipped with 1 outer pocket made for your most used card or receipt. 14 card holders inside, and one spacious 1 cash slot (holds up to 20 bills)
MULTIPLE APPLICATIONS: Keep your coins, driver's license, ID card, credit card, cash pocket, and other cards to make it necessary when walking out.  
MINIMAL & STYLISH DESIGN: Has a super stylish and elegant design that looks super attractive, durable, and highly flexible. 
EASY-TO-OPEN & CLEAN: Is the easiest to open with its zipper closure. And to clean it, you need a damp cloth, and you are done. 
A THOUGHTFUL GIFT IDEA: Here is a great wallet for men. The perfect gift for husbands, fathers, sons, colleagues or other male friends – Definitely a noble and practical wallet for men.
SPECIFICATIONS:
Material: Premium Leather
Size: 12cm x 10cm x 2cm
Card Slots: Fits 10-15

One Large Cash Holders Slot
PACKAGE INCLUDES:
1 x LaunaShop™ Men's Leather RFID Wallet
FAQS
Does it help in keeping all my business cards?
The LaunaShop™ Men's Leather Wallet has 14 card slots to make sure you can put all your essential cards in it. 
What is the thickness of LaunaShop™ Men's Leather Wallet? 
The LaunaShop™ Men's Leather Wallet has 2cm thickness which is not thicker and will not become thick even after adding lots of cards, coins, and cash to it. 
Yes, the LaunaShop™ Men's Leather Wallet is skin and environmentally friendly, ensuring that you and our atmosphere remains safe. 
How can it protect my information?
The LaunaShop™ Men's Leather Wallet has RFID and NFC blocking to protect your information. Also, the zipper closure makes it protection on the whole next level. 
Although it has such settled colors, you will not feel it dirty, but if you want to clean it, wipe it off with tissue paper or cloth. 
Can I keep my mobile phone in it?
No, you cannot keep your mobile phone in it because it is the smallest in size and specially made for keeping your cards and coins safe. 
What is the exact size of LaunaShop™ Men's Leather Wallet?
The LaunaShop™ Men's Leather Wallet has 12cm length, 10cm width, and 2cm height.